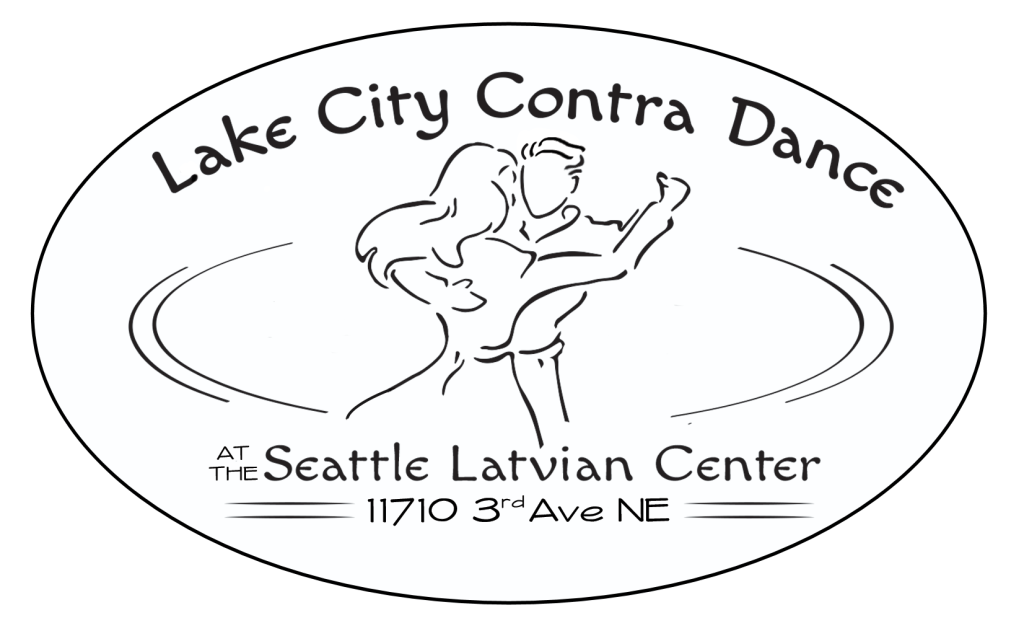 Thursday nights; doors open at 7 pm
Dances: intro/refresher workshop 7:15 pm, dancing 7:30 till 10:00 pm
Admission on a sliding scale $10 – 20 – pay what you can
The hall is well-ventilated and air-conditioned!
For more information call 206-525-0932, or email sjnevins@gmail.com.
DRIVING DIRECTIONS: From 5th Avenue NE TURN WEST ONTO NE 117th STREET, and TURN RIGHT AT 3rd AVENUE NE. The road (driveway) leads past the hall to the parking lot (through the gate on the north side) and is a one-way loop all the way around the hall, with some limited parking available behind the building. There are 2 doors into the lobby; the side door up the walkway across from the parking lot, and the main door in the front courtyard.
---
Thursday, June 1, 2023: The fun never stops! Ruthie & Amy Carroll and WB Reid (fiddle, piano, guitar, banjo-guitar) infuse contra tunes with multi-generational magic! Esteemed caller Charlie Fenton (San Francisco CA) brings enchanting dances!
Covid Information
All participants must show proof of being fully vaccinated with a booster (see below) and wear well-fitting face masks.
Participants must show proof of being fully vaccinated AND boosted when eligible. Because vaccine immunity has been shown to wane over time, being "fully-vaccinated" means "had every dose qualified for". WE REQUIRE AT LEAST ONE BOOSTER for all who are eligible; NEW BIVALENT BOOSTERS ARE STRONGLY RECOMMENDED. Help keep yourself, and your community, safe! WELL-FITTING FACE MASKS ARE STILL REQUIRED (KN95 masks are provided for those who don't have one).
All who have previously attended at least one of the Lake City "vaxxed" contra dances (or concerts) will check in at the door, but will not need to show their vaccination document again. Those who have NOT previously attended will need to show ID and proof of vaccination and fill out a registration form at the door. Check this website for details and any necessary updates!
All is subject to change with the fluctuating status of COVID-19. Check for updates on this site.
HERE is our vaxxed & masked dance track record to date. All events are held at the Seattle Latvian Center, with windows & doors wide open.
---
---
---
Schedule of UPCOMING musicians and callers for Lake City VAXXED Contra Dances:
June 1– Ruthie & Amy Carroll and WB Reid (fiddle, piano, guitar, banjo-guitar); Charlie Fenton (SF, CA) caller
June 8- "Spin" (Rodney Miller (CA), Dave Bartley & Anita Anderson – fiddle, mandolin, guitar, bouzouki, piano); Lindsey Dono caller
June 15- "Bison Socks" (Vienna Scheyer & Elise Snoey + Rosie O'Neil & Sam Vogt – Seattle & Bellingham – fiddles & guitar); Isaac Banner caller
June 22- "The Sono Onos" (Sono Hashisaki, Laurie Andres, Olga Hauptman, Jay Finkelstein – fiddles, accordion, guitar, piano); caller TBA
June 29– "Hot Seat" (Jesse Partridge, Alex Sturbaum, Julie Bennett – fiddle, guitar + effects, drum kit); Lindsey Dono & Kelly Tabor (Portland) callers
July 6- Ryan McKasson, Dave Bartley, & Anita Anderson (fiddle, guitar, mandolin, bouzouki, piano); caller TBA
July 13- "Countercurrent" (Brian Lindsay & Alex Sturbaum – fiddle & guitar); caller TBA
July 20- NO DANCE tonight – FLOOR WILL BE REFINISHED
For information about Past Dances, musicians & callers
WELCOME TO THE CONTRA DANCE!
Contra (or Old-Time Country) Dances feature dynamic LIVE music, energetic dancing, friendly camaraderie, and a strong sense of community. Contra/square dancing is great fun and great exercise – for all ages!
Here are some helpful hints and guidelines:
For Everyone:
Contra dancing is traditional American folk dancing, derived from English and French country dancing. Couples stand in long lines. The caller "walks through" a pattern of figures before each dance begins, and prompts the moves as long as the dancers need it. Each couple dances the sequence with another couple, then progresses along the line to repeat it with new couples.
Anyone can ask anyone to dance – it's "people's choice". It is customary (not mandatory!) to change partners for each dance. When invited to dance, it is ok to politely decline. There is no need to feel guilty or to make excuses. If you are turned down for a dance, take it in stride and seek another partner; don't harass anyone who has repeatedly declined to dance with you.
Callers use the terms "larks & robins" (traditionally "gents & ladies") to refer to the positions of the people in the dance – in each couple, the "Lark" is on the Left & the "Robin" is on the Right. Unlike other social dances, either person in contra dancing can lead or follow depending on the figure. Just remember your own role label, and dance with whoever is coming towards you in line, regardless of their appearance.
You don't have to worry about footwork; just walk smoothly, 1 step per beat of music.
Connecting with each other and with the music is the essence of contra dancing. When dancing with joined hands, keep your elbows bent, pull back slightly, just enough to keep an equal counterbalance – keep your fingers relaxed, don't squeeze hands or twist wrists.
Eye contact is another way we connect. Looking at each other will keep you from getting too dizzy – and it's fun!!! If you're uncomfortable looking deeply into someone's eyes, you can look at their forehead, hair, face mask…..
In contra dancing, each figure fits with a musical phrase. It's very satisfying to time each move so you can be ready to start the next in sync with the music, and with the other dancers!
Learn the basics before trying to add fancy flourishes. Be respectful of each other's needs and preferences: how fast to swing, adding extra twirls, how boldly to flirt…or not…
It's ok to make mistakes – no one is keeping score! People are friendly & everyone helps each other out. If you miss a figure, don't worry about it – skip it and go on to the next.
Dancing in a way that hurts or disregards the safety or comfort of other dancers is NOT acceptable!!! If someone does something that hurts or makes you uncomfortable, let them know – be clear, direct, and specific – subtle hints are often ineffective. If you feel awkward or unsure about your dancing or social interactions – ASK!! Callers, dance coordinators, and many experienced dancers are willing and able to help.
At the end of each dance remember to thank your partner and the band! Show your appreciation for the talent, skill, and dedication of our fabulous musicians & callers – applaud heartily!!!
For Experienced Dancers:
Please welcome newcomers – ask them to dance, and help them have a fun, satisfying dance experience! Two of you can approach new couples and offer to be their partners, but don't insist that they split up. Trust that their "neighbors" in the line will help.
Give your full attention when the caller is teaching, thereby setting a good example for newcomers (even if you thoroughly know the dance).
Help newer dancers to face the right direction, and keep verbal instructions to an absolute minimum. Point, gesture, tap on the shoulder, use other signals, or call their name. It is hard for newer dancers to listen to the caller, you, other dancers, and the music all at the same time.
Be considerate – refrain from extra twirls & spins, and high-speed swings with less experienced dancers. These are disorienting, slowing the learning process for your partner and for other newcomers for whom you are a role model.
When helping other dancers, relax – be encouraging, and keep it light! It's all about shared enjoyment, not perfection. Newcomers will learn faster and dance better when they are not anxious about their performance.
Be sociable and resist the urge to "book ahead". Go to the sidelines & ask those sitting out if they would like to dance.
---
Read footprints for a brief history of this dance series.